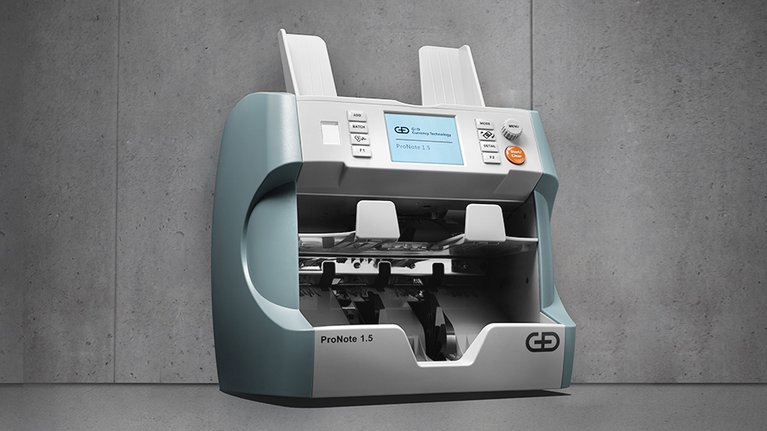 not available in Mainland China
ProNote® 1.5 and ProNote® 1.5F: comfortable and compact processing power
Cutting-edge sensor technology and efficient design combine to create one of the most compact table-top systems in its class. ProNote® 1.5 and ProNote® 1.5F provide maximum performance in minimal space.
Cash centers, banks, retailers and casinos need to meet extremely demanding requirements in banknote processing – counting, sorting, authentication, counterfeit detection and fitness verification. In addition to meeting these demands, counting and sorting machines must also be efficient, cost-effective and user-friendly. ProNote 1.5 and ProNote® 1.5F utilize cutting-edge technology to deliver exceptional ease of operation, maximum precision, absolute reliability and a speed of up to 1,300 banknotes per minute, to meet the full range of user requirements. This establishes it as premium system in the compact table-top market. And when we say compact, we mean one of the smallest devices in their class – just 335 x 280 x270mm.
Benefits at a glance
Exemplary sorting speed of 1,300 bank notes per minute
Non-stop performance thanks to a sophisticated reject compartment
Currency authentication powered by state-of-the-art sensor technology
Space-saving compact design of just 335 x 280 x 270 mm
Configuration for up to 40 currencies, with auto-currency option
User-friendly programmable user interface and jog dial knob
Reliable and secure
Cutting-edge sensor technology makes it possible: ProNote® 1.5 and ProNote® 1.5F meet all requirements for counting, sorting, serial number reading and counterfeit recognition with maximum precision. Both devices offer an optional external LCD display and receipt printer, which makes accounting processes even more transparent for customers.
Flexible and future-fit
ProNote® 1.5 and ProNote® 1.5F can be configured to process up to 40 different currencies. With easy and rapid update options via an SD slot or USB port, both systems are well prepared to meet future requirements. Additionally, businesses with specific requirements can take advantage of a team of experts, who can demonstrate how ProNote1.5 and ProNote® 1.5F can be adapted to meet individual needs.
ProNote® 1.5F
Maximum performance with ProNote® 1.5F
Representing the top of its class, ProNote® 1.5F boasts unparalleled fitness verification and auto-currency detection. Its sophisticated fitness sensor uses state-of-the-art technology to precisely recognize and process counterfeit, unidentifiable and, most importantly, no-longer-fit banknotes. The upgraded model also offers an auto-currency function, which automatically detects and identifies the currency being processed. ProNote® 1.5F delivers the most meticulous detection and verification at exemplary speed.
Download brochures
ProNote® 1.5 and ProNote® 1.5F
Are you ready for maximum performance in minimal space?
Get in touch
If you have any questions about our end-to-end business solutions or about our company, seek expert advice, or want to give us your feedback, our team is here to support you, anytime.